X-eye SF160 Series
2D & 3D Micro CT System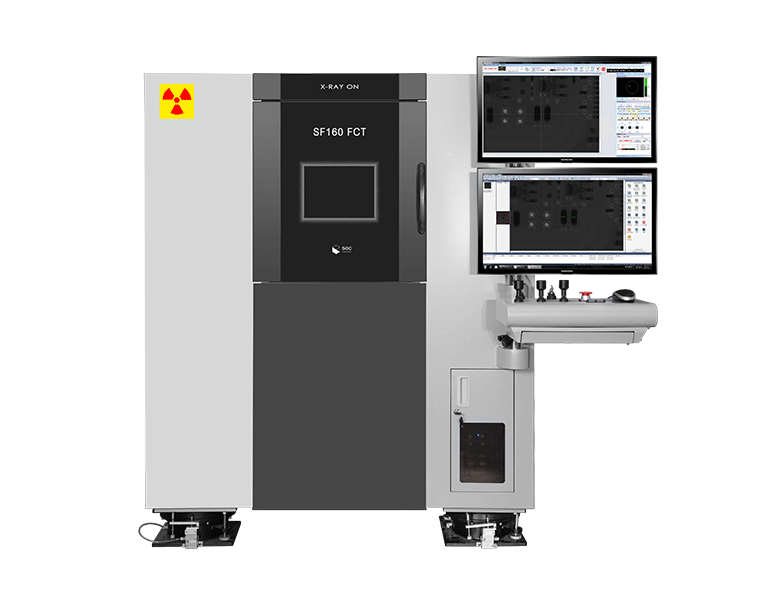 Non-destructive analysis of semiconductor, SMT, and electron/electric components

Hybrid Tube – filament(consumable) lifespan 10,000hrs

Dual CT – High-quality CT image / high speed scan
Best performance X-ray Inspection System
High-performance Micro-focus Open Tube with 160kV is installed and fine defects of 1㎛ are detectable. 
High-resolution X-ray image can be gained with world best magnification by installing high-price Open Tube as standard.
Dual CT function can be purchased additionally, and exact location & size of defects can be detected and analyzed with this function.
Specifications
| | |
| --- | --- |
| X-ray Tube | 160 kV / 200 µA (option 160 kV / 500 µA) |
| Min. Resolution | 0.9 µm (tungsten) / 0.8 µm (CeB6) |
| Table Size | 460 X 510 mm (option 550 X 650 mm) |
| AXIS | X, Y, Z, Tilt (70º), R, Y-aft, Cone beam R |
| Detector | 5 inch Pixel FPD |
| CT Scan Method | Oblique CT / Cone beam CT |
| Foot print | 1,340mm x 1,460mm x 1,670mm |
| Weight | 2,000kg |
BGA Cold Solder