X-eye 6300
In-Line 3DCT AXI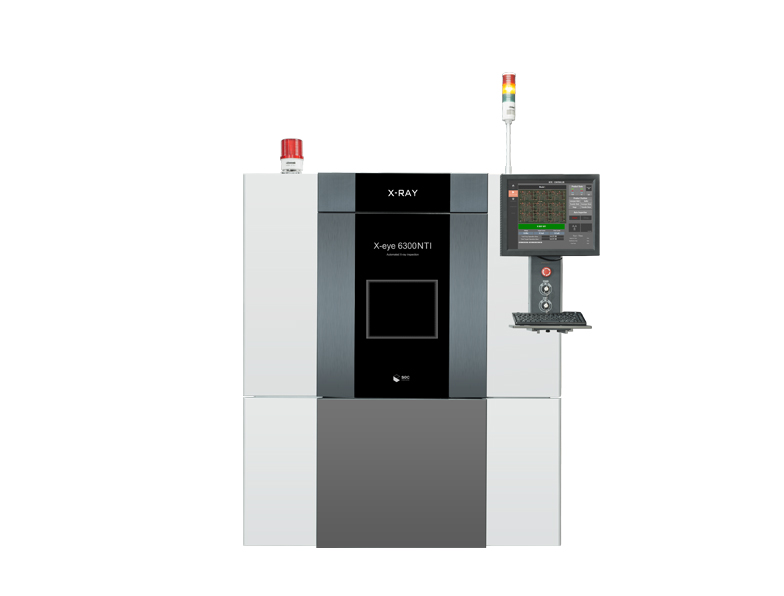 High speed 3D In Line Inspection System (~4.3 sec/FOV)

Best Solution for both-side layered PCB

Various defects detectable – BGA, Chip component and etc.
High-speed In-Line 3D CT Inspection System
Automatically inspects the defects of products in customer's line with high-speed 3D CT tomography.
Able to inspect every defects of Double-sided PCBA & BGA mounted components precisely by solving overlapped X-ray image issue.
Inspection speed of 4 sec/FOV from loading to automatic Good/NG judgement.
Specifications
| | |
| --- | --- |
| X-ray Tube | 160 kV / 500 µA |
| Min. Resolution | 0.8 ~ 15 µm |
| Table Size | Min : 50 x 50 (mm), Max : 330 x 250 (mm) |
| Detector | 12 inch FPXD |
| CT Scan Method | Oblique CT |
| Objects | BGA, Through Hole, BGA, Chip, QFN, QFP |
| Defects | BGA Short, Bridging, Open, De-wet, Void, etc |
| Foot print | 1,360 x 1,880 x 1,700 mm Control Box : 640 x 950 x 1,190 mm |
| Weight | 4,200kg |